One of my favorite places in New Jersey is Sandy Hook. Sandy Hook is a little peninsula (a hook?) at the top of the Jersey Shore. On one side there are ocean beaches with places for parking and restrooms. On the other side are little cove beaches. At the far end are a lighthouse and historical buildings.
We first went to the ocean side – it was crowded, and the waves were strong. We then decided to drive closer to the lighthouse, parked the car, and discovered the little cove beach at the top of this post. We swam, had lunch and discovered various beach items.

I wanted to climb to the top of the lighthouse, but my daughter did not. This is a lesson in patience – I make lists in my head of stuff to do when I have the opportunity. We did watch a movie in the little house next to the lighthouse all about piping plovers, and how they on the threat of extinction list. I suppose I would have to wake up early in the morning and go with another bird lover if I wanted to watch the plovers on the beach myself.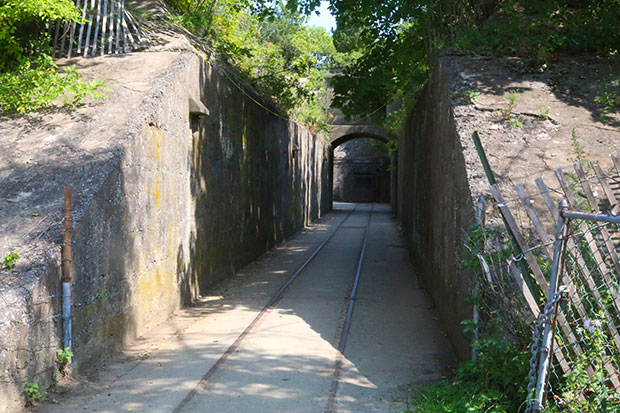 A good number of the buildings at Sandy Hook were once upon a time used by the U.S. military. Above is a mortar battery at Sandy Hook, built about 1898. You can learn more about Sandy Hook and how it was used to defend New York City on this National Park Service article.

I saw these horseshoe crabs (deceased!) on the beach, so I took a photo.
Some facts from the Florida Fish and Wildlife Conservation website:
Four species of horseshoe crabs exist today. Only one species, Limulus polyphemus, is found in North America along the Atlantic and Gulf coasts from Maine to Mexico… Horseshoe crabs are not true crabs at all. Horseshoe crabs are more closely related to arachnids (a group that includes spiders and scorpions) than to crustaceans (a group that includes true crabs, lobsters, and shrimp). Horseshoe crabs are often called "living fossils" because fossils of their ancestors date back almost 450 million years–that's 200 million years before dinosaurs existed.
A scene I found beautiful:

I did post about Sandy Hook way back in 2009.