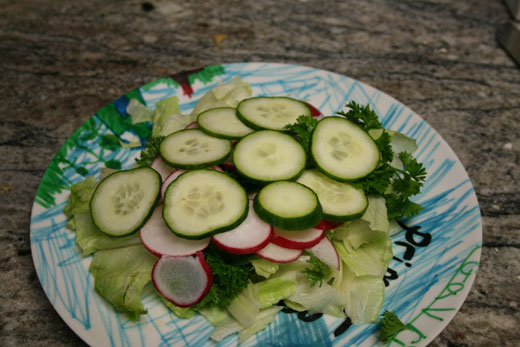 Why press a salad? According to macrobiotics, a pressed salad makes the vegetables easier to digest. It is a way of preparing the vegetables without any cooking.
At first I thought I would need to buy a salad presser to press a salad, but then after an email from Klara convincing me to try putting a heavy bowl on top of the salad I came up with this homemade version of pressing:
How to Press a Salad
Gather up some vegetables. Here are a few suggestions:
kale, chopped or torn into pieces
cucumber, sliced (my understanding is peel if it is not organic, you can leave peel on if organic)
radishes, sliced (they will be less sharp after pressing)
lettuce, torn in pieces
sweet onion, chopped
parsley, basil or another fresh herb
Put your vegetables on a plate. Sprinkle with sea salt (or whatever salt you have). You can put on some apple cider or rice vinegar, too, according to some recipes (I just use salt). Put whatever heavy objects you need on top of the vegetables for an hour or two or three. The vegetables should soften and release some water, too. You can rinse off the salt and drain any excess water.
Lemon juice might be tasty as an addition, too. Enjoy.
The definition of a pressed salad, from Changing Seasons Macrobiotic Cookbook, by Aveline Kushi and Wendy Esko:
"Very thinly sliced or shredded fresh vegetables, combined with a pickling agent such as sea salt, umeboshi, grain vinegar, or shoyu, and placed in a special pickle press. In the pickling process, many of the enzymes and vitamins are retained while the vegetables become easier to digest."