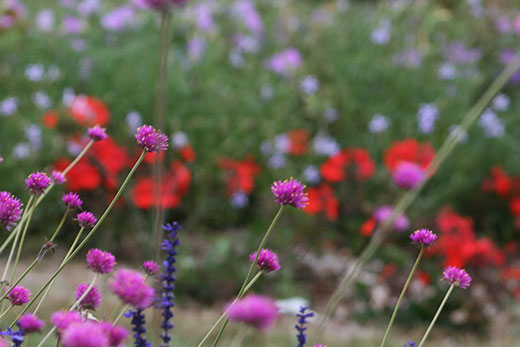 Today I visited Rutgers Gardens with my friend Hannah Katsman. I don't know the name of these delightful purple flowers, but I nicknamed them pom pom flowers (maybe Gomphrena globosa). My photograph originally had more blur in front; I cropped out some of the front flowers. Now you can see more of the blur of the background flowers.

Hannah has a good eye, and thus twice we saw chipmunks. Chipmunks are quick and thus a subject for movement. His eyes were white from my flash, so I toned them down a bit with some brown. I hope it doesn't look unnatural.

This was the other chipmunk we saw. Here we have a little more of our theme: as the chipmunk moves away, I get blur in my photo.
Thursday Challenge theme is: "BLURRY" (Unfocused, Moving, Foggy,…)
Next Week: LANDSCAPE (Mountains, Trees, Forest, Lake,…)
I'll post more photos from today's trip next week for Nature Notes. See an older post of Rutgers Gardens (or click the tag at the bottom for many Rutgers Gardens posts).